Vinyl record mailers Adelaide
Vinyl record mailers Adelaide
If you find that rare find record online you want it posted safely to you in a strong shipper box. If they are rerun records you want it to get to its destination. When shipping LP records you want them to arrive safely. We sell 330 x 330mm shippers, packers, peel & seal and ziplock bags.
When you have a Vinyl record LP price guide you know how expensive a rare record is. The limited edition vinyl need good protection so those coolest albums make it to there destination. Cardboard box packaging is economical and eco environmentally friendly packaging for lp records. lil packaging lp . These are a strong cardboard shipper box.
If you sell second hand vinyl records online our record mailers are sent around the world. Ours is a cardboard vinyl record LP mailer or we also make a 7 record Mailer
How to post vinyl records. When using Australia Post mailing boxes are economical to post. Wrap your record well. Mark both the forwarding address and also put your address and phone number on so you can be contacted if difficulty in delivering to your customer when shipping LP records.
The cardboard mailers are most economically purchased as flat pack packaging in bundles of 50. These are small cardboard boxes for shipping LP records.
If you are packaging vinyl records we also have protective sheet record stiffeners of Cardboard that you can also buy to add to the protection of your record. Bubble wrap is a good protector and we have 300mm and 375mm rolls.
Outer sleeves are in stock now with Peel & Seel or minigrip / Ziplock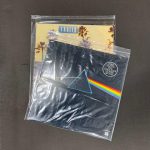 So when you need shipping boxes for vinyl records phone on 08 7444 4141 or email us at [email protected]
See what products Able Packaging have